Sarah @
Thrifty Decor Chick
is having a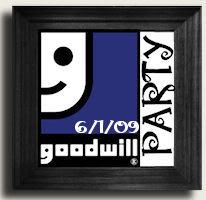 I have had this little gem in my garage for a few weeks and Sarah's Goodwill Party motivated me to get er done! My son needed a new dresser really bad so of course I went on to craigslist to have a peek at what I could find and I found this...
It had about a 1/4 inch layer of paint on it so I had to sand it down and start over but I turned it into this...
Which I love, it will go perfect with his new furniture. I still need to put contact paper in the drawers because they are still sticky from the 70's version that was in there when I got it. I will show off more pictures later once I have it moved into his room.