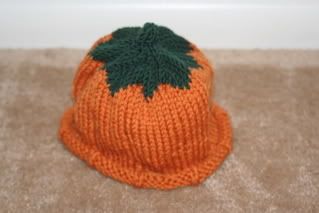 As yet another halloween approaches I can't help but think back three years ago to this little hat, that has changed my life forever. How do you ask can a hat change a persons life, and forever at that. When I was pregnant with my 4th munchkin, Fish, I found my way to babycenter.com and the June 2007 Board. And posted on this hat on the crafty mommas thread. One of the other mom's on the board oooh'd and awe'd over it and asked if I would consider trading the hat for some of her uber cute bows. I thought about it for awhile because well, I wasn't THAT kinda mom, you know the one that matches each outfit to a bow, but none the less I agreed and put the hat in the mail. You see the Fish has two older sisters who would have loved for me to be THAT mom *wink*. This was in February of 2007, just 4 short months before our June Babies were due and that hat was mailed to Jess. Soon after the hat was made Jess and I found each other on Yahoo and began chatting regularly. We discovered we both had a love for all things ribbon and fabric (or a sickness rather), had our first child at a young age (19 to be exact), and were stay at home mom's who just loved to create in our spare time.
Fast forward to October when our Juners (well my mayer, he was early) were about 4 1/2 months old, I realized I had mailed my pumpkin hat to Jessb and my Fish didn't have one, crap! I stayed up til 2 am on October 30th so my cute little guy could have a hat of his own. Whoops...guess I asked for that one. As more time passed we talked more and more often, moved to a private message board with 25+ of our favorite people from baby center. We share stories of our new babies, pictures of our latest craft projects, our heartaches and our joys. Being a military wife I have learned to deal with losing friends to distance and making new ones with each move, but having someone in my life as a constant was helping me to deal with the bitter sweet moves in ways I still can't explain.
Jess was there for me when I was dealing with the loss of my mom, and I for her when she lost her grandfather, the man she grew up calling "Dad". All of the boy's scraps and bruises. Their first smiles, first steps, first words, and first time outs. We talked about it all, and still do. We discovered Skype about a year ago and have since talked via Skype almost daily.
Last October Jess mentioned how she has always wanted to walk 60 miles in the Breast Cancer 3 Day, now most people's first thought would have been, "Are you CRAZY", my reply was "ME TOO!!!!!". Shortly there after I signed up for the Seattle 3 Day, knowing I would be living in WA at the time, remember we are military and move every 1.5 years. And came back and told her I had done so and there was no turning back. A few weeks later I received a call from her husband asking what I was doing one weekend in November, you see he had a surprise for Jess, he was flying her out to Rhode Island to meet me, I was ECSTATIC! He told her we just couldn't possibly wait another year to meet, it was just too long.
A couple of weeks later I found myself in my van on the way to the airport to meet the woman I had come to call my best friend. I was nervous, excited, scared and a million other emotions. Would we really like each other as much as we thought we would? Would she have a good time?? And most importantly, would we really finish all the craft projects we had planned????? She brought me my beloved Birdie Bag (Amy Butler's purse pattern), and who's to judge it was only a year later :P. Let me tell you those days flew by, WAY TO FAST! I found myself wanting to make her miss her plane home, even though I knew she missed her boys like crazy.
A few months later it was time for our family to relocate from Rhode Island to Washington State and wouldn't you know, I made the detour to stop at Jess' house along the way. September was still way to long to wait to see her again. It was a whirlwind 12 hour visit but worth every hour of the detour to see her and her family. Unfortunately the hubs was at a school in Florida and was unable to meet her family, but we had fun none the less.
From March until September we worked hard to raise the funds required to walk in the Seattle Breast Cancer 3 day, $2300 each to be exact. And although it was a lot of work it was worth every letter sent, every percentage of sales donated and every annoying facebook post begging my friends to donate. We also talked about our new crafts, the boys haircuts, the kids school projects, sports, etc. We also talked about when our husbands annoyed us, come on admit it all husbands can be annoying at times, and when they were uber romantic, because yes that does happen on the rare occasion.
September came and Jess flew in and we were excited to begin our sixty mile journey. Although talking about it in the weeks leading up to it we decided we were going to wait at least two years before committing to the challenge again. The fundraising was really really really hard work. On day one just 5 miles in that all changed, we saw what this walk was all about and we were already talking about where we would be walking NEXT YEAR! The entire experience was AMAZING and lets just say Jess is UNSTOPPABLE. You can read her story about our journey
here
.
We have since chosen San Francisco as the city where we will be walking in 2010 and have opened an
Etsy shop
where will will be selling items donated by fellow Etsy sellers who want to help us reach our goal of a combined $4600 in order to walk in the 3 Day again. I can't think of anyone else on this earth I would rather go from 0 to 60 in 3 days with. Love ya Jess, I don't know what my life would be like without you in it!