So last April I rode the train for the very first time ever and when it came time to have dinner I wandered down to the snack car and bought myself a salad. It was the best salad EVER, and tonight I recreated that salad because I LOVE it and lets face it, it's too expensive to take a train ride just for the salad, although this weekend I got to enjoy two of those salads as I was taking the train to run a 5K! So because I love this salad so much I am going to share my recipe with you!
Linsay's Farmer's Market Salad
Cran-Raspberry Vinaigrette
2 cups Cranberry Juice
1 cup Fresh Raspberries
2 TBS Olive Oil
2 TBS Honey
2 TBS Red Wine Vinegar
1/4 tsp Salt
1/4 tsp Pepper
Combine Cranberry Juice and Raspberries in a small sauce pan on stove and bring to a boil. Continue to build until it is reduced to 1/2 cup total. Combine with remaining ingredients in the blender on liquify until smooth. Resist tasting as you won't be able to stop.
Salad
1 Apple chopped (I used Pink Lady)
1/2 Cup Chopped Dried Apricots
3/4 Cup Dried Cranberries
1/2 Cup Sliced Almonds
2.5 oz Blue Cheese
1/2 Bag of Baby Spinach
1/2 Bag of Chopped Romaine Lettuce
Layer lettuce, Blue Cheese, Sliced Almonds, Dried Cranberries, Dried Apricots and Apple in a large salad bowl. Served topped with Cran-Raspberry Vinaigrette. ENJOY!! If you try this you have to tell me if you like it. Everyone in our house besides Lippy Lou LOVED it. I can't believe 3 out of 4 kids enjoyed the blue cheese!
Want more great summer recipes? Check out Works for Me Wednesday on
We are THAT family
!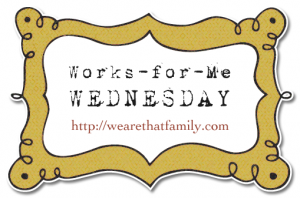 This post is also linked to
Foodie Friday
, check it out!